ZCC-CT VSM-4E 4 Flute AlTiN Coated High Performance Variable Helix Solid Carbide End Mill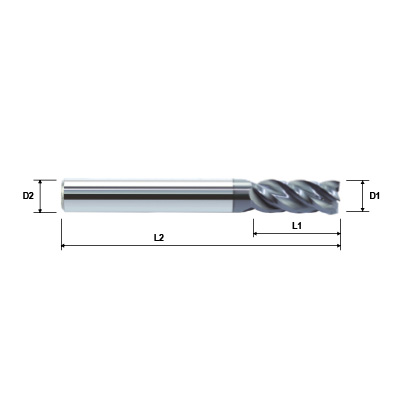 ZCC-CT VSM-4E 4 Flute AlTiN Coated High Performance Variable Helix Solid Carbide End Mill
Series: VSM-4E

Starting From:


£21.15

excl VAT£25.38 incl. VAT

Solid carbide standard length high performance end mills with unequal pitch for roughing and finishing of steel up to 55HrC, stainless steel, heat resistant alloys and cast iron with high metal removal rate. AlTiN (Aluminium Titanium Nitride) coated for exceptional tool life and high heat resistance. Outstanding performance on steel, stainless steel and cast iron, suitable for hardened steel.

Features: • Sharp cutting edge with unequal 38 degree and 41 degree helix angles and unequal pitch. • Working processes: Square shoulder milling, groove milling, face milling, counter sinking, circular milling and centre cutting. • End mills and torus Mills. • Heat resistant alloy machining. • AlTiN (Aluminium Titanium Nitride) coated solid carbide for exceptional tool life.
Diameter
Shank Diameter
Cutting Length
Overall Length
Stock
Diameter: 10mm
Shank Diameter: 10mm
Cutting Length: 25mm
Overall Length: 75mm
In Stock
Get it on Mon, 13th Dec
HPC-Solid Carbide End Mill Z=4 Ø 10; Shaft HA; coated
List Price:
£42.50
ex VAT £51.00 inc VAT
Diameter: 12mm
Shank Diameter: 12mm
Cutting Length: 30mm
Overall Length: 75mm
In Stock
Get it on Mon, 13th Dec
HPC-Solid Carbide End Mill Z=4 Ø 12; Shaft HA; coated
List Price:
£57.59
ex VAT £69.11 inc VAT
In Stock
Get it on Mon, 13th Dec
HPC-Solid Carbide End Mill Z=4 Ø 14; Shaft HA; coated
List Price:
£84.89
ex VAT £101.87 inc VAT
Diameter: 16mm
Shank Diameter: 16mm
Cutting Length: 45mm
Overall Length: 100mm
In Stock
Get it on Mon, 13th Dec
HPC-Solid Carbide End Mill Z=4 Ø 16; Shaft HA; coated
List Price:
£110.03
ex VAT £132.04 inc VAT
Diameter: 20mm
Shank Diameter: 20mm
Cutting Length: 45mm
Overall Length: 100mm
In Stock
Get it on Mon, 13th Dec
HPC-Solid Carbide End Mill Z=4 Ø 20; Shaft HA; coated
List Price:
£167.82
ex VAT £201.38 inc VAT
Diameter: 4mm
Shank Diameter: 6mm
Cutting Length: 11mm
Overall Length: 50mm
In Stock
Get it on Mon, 13th Dec
HPC-Solid Carbide End Mill Z=4 Ø 4; Shaft HA; coated
List Price:
£21.15
ex VAT £25.38 inc VAT
Diameter: 5mm
Shank Diameter: 6mm
Cutting Length: 13mm
Overall Length: 50mm
In Stock
Get it on Mon, 13th Dec
HPC-Solid Carbide End Mill- Z=4 Ø 5; Shaft HA; coated
List Price:
£21.15
ex VAT £25.38 inc VAT
Diameter: 6mm
Shank Diameter: 6mm
Cutting Length: 16mm
Overall Length: 50mm
In Stock
Get it on Mon, 13th Dec
HPC-Solid Carbide End Mill Z=4 Ø 6; Shaft HA; coated
List Price:
£21.15
ex VAT £25.38 inc VAT
Diameter: 8mm
Shank Diameter: 8mm
Cutting Length: 20mm
Overall Length: 60mm
In Stock
Get it on Mon, 13th Dec
HPC-Solid Carbide End Mill Z=4 Ø 8; Shaft HA; coated
List Price:
£30.61
ex VAT £36.73 inc VAT